BUD'S JOURNAL
---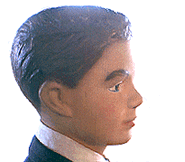 Meet Bud-

that is, if you haven't already. He has been traveling around the world with his friends for many years. He's been all over North America, as well as Europe and Southern Africa. Perhaps you've encountered him during his travels. You'd remember him, he always stands out in a crowd dressed in his trademark dapper blue suit and red tie (he also stands out because he can't sit down).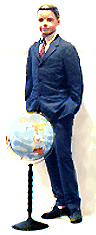 ---
Early Career-

In 1965, Bud began his professional life by selling clothes in the "Young Men" department at Montgomery Ward. A few years later, when longer hair came into fashion and he was no longer "cool", he was laid off. For a while, he worked in second hand shops, yet always yearning for something more meaningful to do with his life.
---

Beatnik-

An opportunity arose and he took a job as an artist's model. The department store job was the same old grind day in and day out. The only time anything changed was when it was time to update the display for the new season. But this art thing was different and exciting. He enjoyed the variety of experiences he encountered. He attended "happenings" and joined in on performance art collaborations. He posed for photographers and painters. He attended poetry readings, gallery openings and the all night celebrations that inevitably followed. However, the time came when he realized that even this scene was repetitive. One glamorous bohemian loft party just seemed to blend into the next. He saw that the art crowd was incestuous, with each individual feeding on the other's egos in a feast of self congratulation while blind to the rest of the world. He decided to see that world and experience other cultures.
---
On the road-

In the summer of 1983 he hit the road and drove across the USA from Baltimore, Maryland, to San Francisco, California. Occasionally, to cool off, Bud liked riding on the roof.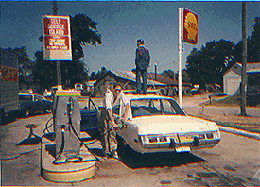 Other drivers on the road loved to see him ride this way, though more than one swerved across their lane when they first spotted him up there. When he arrived at Yosemite National Park, a Park Ranger told him he had to get down. The Ranger thought that Bud riding on the roof would be a bad influence and might incite other youngsters to try it (seriously). It was on this trip that he toured the St. Louis Arch, camped out in the Colorado Rocky Mountains, baked in the hot sun of the Nevada Desert, was humbled by the spacious skies and amber fields of grain outside Lawrence, Kansas, and paid his respects at the Cadillac Ranch in Amarillo, Texas. While this is more than some people see in a lifetime, for Bud this was to be only the first of many road trips for the young excursionist.
---
Friends-

Wherever Bud goes, he makes lots of friends. Whether it's with a little girl named Sefonia on St. Thomas in the Virgin Islands; Eduardo in front of Buckingham Palace in London, England; Buster the mailboat captain in Isle Au Haut, Maine; or a group of children in front of the Eiffel Tower, Bud always makes new friends.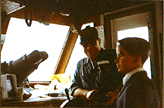 ---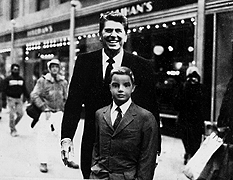 Not a Fake-

Here is Bud with a special friend outside the Empire State Building in New York City back in 1985. No, that wasn't really the president of the United States, Ronald Reagan. It was a cardboard cutout photo likeness of him that you could have your picture taken with for $5.00 to fool your friends. It looks real doesn't it? Bud thought it would be a funny joke. It's true that in this digital age Bud could cut and paste his picture over all kinds of famous backdrops and make it look like he's been many places he has never visited. But Bud refuses to do that. All the images on this web site are authentic in that Bud actually posed for that picture in that location. The ONLY enhancements are simple touch-ups, like color correction and spotting. The purpose of Bud's travels is to go and see new people and places, not to trick or fool anyone.
---
Believe it or not- In 1986, Bud applied for and received a "works in progress" grant from the Maryland State Arts Council. With the grant, Bud was able to afford airfare to Alaska and Hawaii. This portion of the trip would not have been possible without this generous grant from the Maryland State Arts Council. He had a wonderful time.

---
Credits-

Many thanks to everyone for your assistance:
Stacy Arnold; Delaware, USA
Cynthia Sanders; Mexico, The Netherlands, United Kingdom, Entire Eastern USA- from Maine to Florida, France
Lee Boot; Delaware
Randy Hoffman; St. Thomas, Virgin Islands
Albert Yaphet; St. Thomas, Virgin Islands
Marius & Ans Rijke; The Netherlands
Sybe & June Bakker; The World
Jerome Collins; Botswana and South Africa
Lawrence Ruggeri; Alaska & Hawaii, GreatPhotoMan!
Joseph Hyde; New York City
Chris Hartlove; Hammerjacks
Jeff Gates; Photoshop and Web Guru
Gerard & Sue Bakker; Scotland
Olivia Georgia; Traveling Exhibit- Maryland, Virginia & New York
Maryland State Arts Council; Works in progress grant- 1986
Johannes Roos; Botswana and South Africa
Hendrik Roos; Botswana and South Africa
Mrs. Beetz; The first cross-country road trip

Back to top

Home,
Letters,
Links,
Index of Photos,
Maps,
Slide Show.

Bud's Travels are presented by:
The Artifice Studios


Write to Bud and be his pen pal.


&copy 1998 DS Bakker, All Rights Reserved